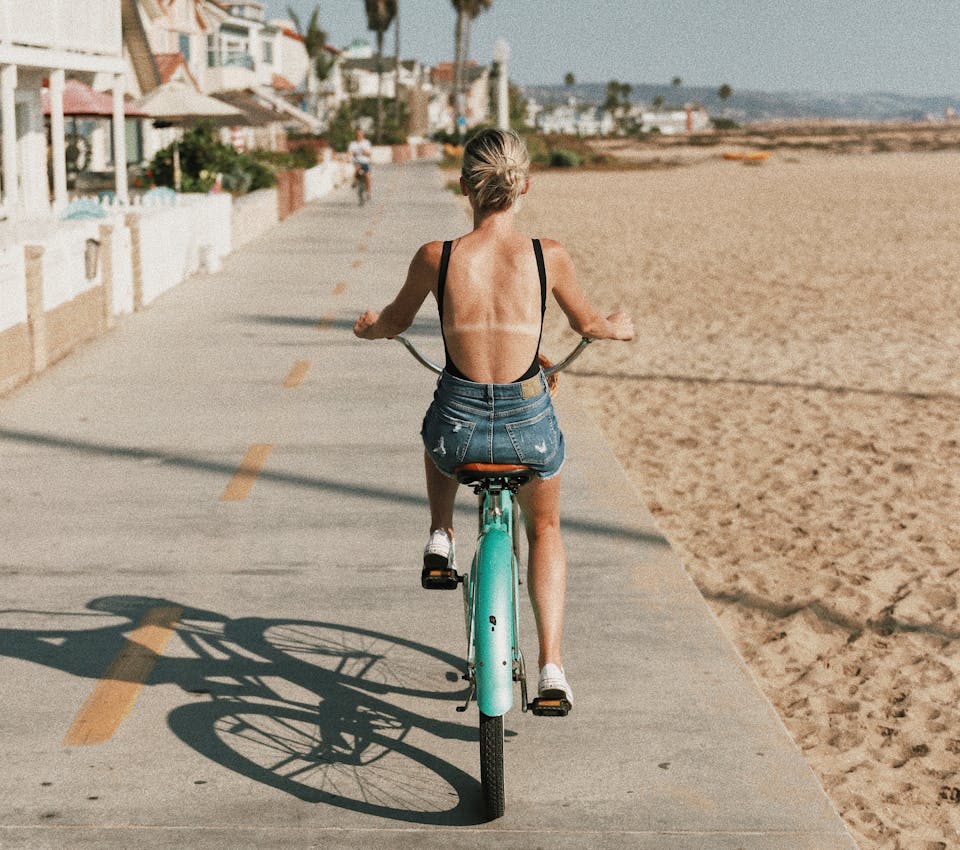 california made me do it
5 Dopest Bikes to Cruise Around On
Biking is good for both you and the environment. Here are some options to travel in style. Ride on ya'll, ride on…
There's something about riding a bike that, sorry, not to be cheesy, but it really does give you all the feel-like-a-kid-again vibes, whether it's traveling in a pack of your homies or the mini-adventure that is sailing solo through the neighborhood.
But also: As long as the weather is right, getting around on a bike is so perfect for running errands instead of wasting stupid fossil fuels, or gearing up for a major weekend warrior experience. Whether you're a serious enthusiast or just like to bike and chill, we've got an option for you (and you, and you…).
Ultimate Cruiser
You can't eff with a classic. Let us count the ways we love this gem: Obvi, mint green always but always looks so fresh and so clean, and we're getting all the vintage feels on this design. Add a basket and a backside cargo station and well, that's just form meets function babe. One-speed means this bike is no sweat for beginners, and damn that padded seat looks cozy. Bonus: We gotta admit, for a bike this cool-looking, the price is all kinds of right.
Chic Import
You like to look good, right? Yeah you do. A tokyobike owner in the caliray family raves: "This is legiterally the most beautiful bike I've ever owned." Can't argue with that. Between the vibrant mustard yellow shade (sorry: SAFFRON) and doe-hued leather accents, we believe her. This bike features seven speeds, yet it's fairly intuitive when it comes to shifting gears, and the overall body is really lightweight. Five stars. All the stars.
Serious Rider
First, we're partial to Santa Cruz, a company founded by skateboard legend, our fellow Californian Rob Roskopp. We spotted this vintage edition over at The Pros Closet, and we're just really drawn to how badass it looks. With all the high-end features that "serious" bikers require (like hydraulic brakes and a carbon fiber frame), if you actually ride like you mean it, this bud's for you.
Best Bargain
A girl (or boy, or non-binary) has to eat, right? For basically the same price as a kid's bike, this most dope option can be yours. Coming in at the cost of a few full tanks of gas, steel-hybrid frame (whatever that means) and alloy-rims make us feel like this is a solid piece of machinery with good bang for your buck.
Space Saver
If you live in an apartment, the idea of owning a bike might totally stress you out. Where the hell are you gonna store that thing? If space is a precious commodity in your life, this folding bike will help you join the cruising club without taking up half of your living room. Also: love this soothing color. It's a really cool option if you live close enough to your office to commute and want to safely store your bike by your desk. (Do you actually still work in a physical office that is not in your home? Weird.)
stay dope